I decided to go hike up Volcan Benchmark again now that some of the restrictions have eased. Figured an early morning hike would also reduce the number of people I might encounter on the hike. I pulled off the road next to the trailhead to the Volcan Wilderness Preserve. It was a bit brisk, so I had my warmer gear with me as I set off. Making my way up the familiar trail, my knee was feeling just a bit off. I have been having issues with it for a while. While I had hoped to be at or near the summit for sunrise, my pace wasn't going to allow that.
As I climbed up the trail, the sound of birds chirping filled the air. Reaching the last section along the ridge, a pair of coyotes bounded ahead of me. Shortly thereafter, they began howling. I tried to record it but they stopped before I could capture it.
Once I reached the summit, I set out to find all three marks. I knew two were under the trees next to the Air Beacon. But where was the main one? The directions on the reference marks proved unhelpful. Peakbagger 's map did not seem to offer any more help.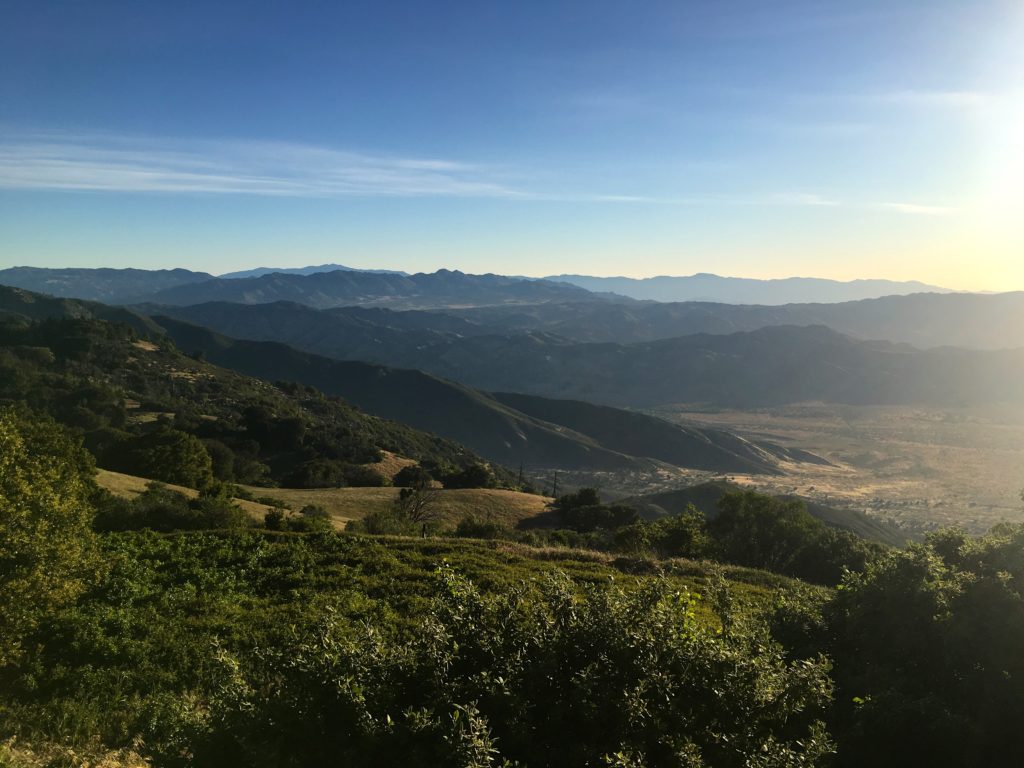 I headed back onto the trail and decided to make the full loop. It was then I spotted the cement post. From an earlier photo I had seen, I knew there was a mark inside!
It certainly is not aligned with the two reference marks, but I will take it. I needed to be back in San Diego so my wife could use the car, so I began heading back down. Thankfully, the knee stayed about the same. Usually descents made it hurt more. As I came to the junction with the Five Oaks Trail, I decided to take it. I have never done it before. The first time I hiked Volcan, it was closed due to bees. The second time, I was more interested in comparing time with the first summit.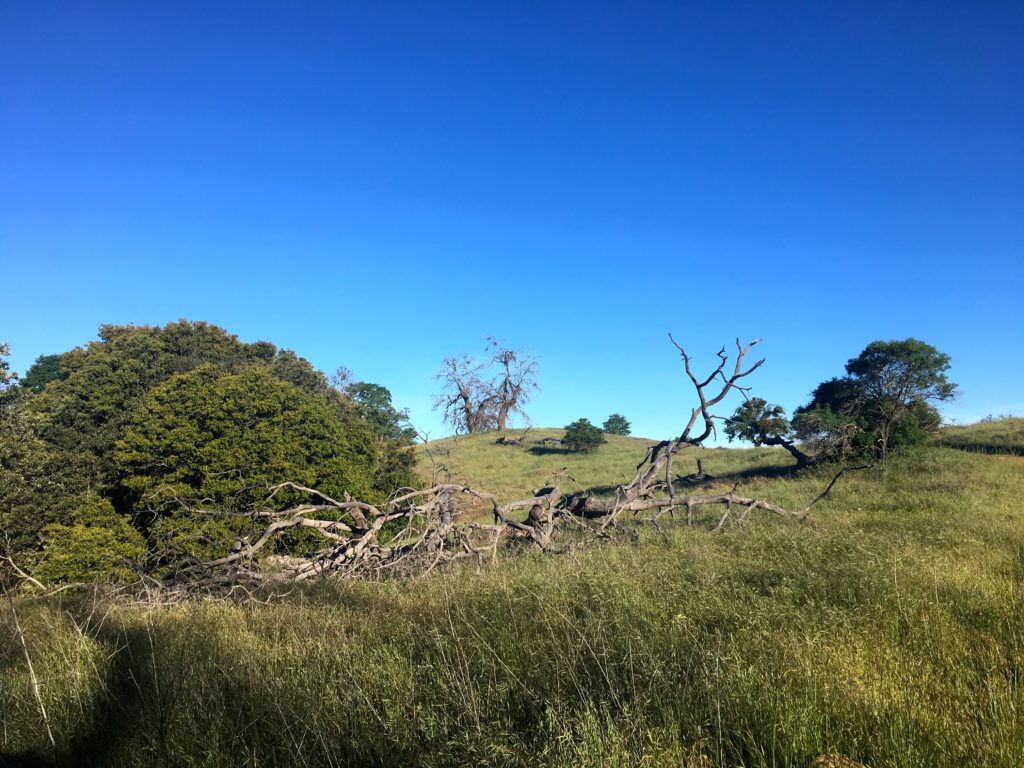 This trail is a single track that leads you through some beautiful scenery. It was here I encountered my first set of hikers. I stood off to the side with my buff raised, as they passed quickly. It was nice to see them don their masks. A bit later, I encountered my second group, three women, and their dogs. They stopped and I quickly passed by. Again, all three were wearing masks. The Five Oaks Trail reconnects about 3/4 of a mile from the trailhead. Here I had my third encounter, this time with a family of four making their way up. Again, all had masks. I gave them a heads up on the traffic I had seen.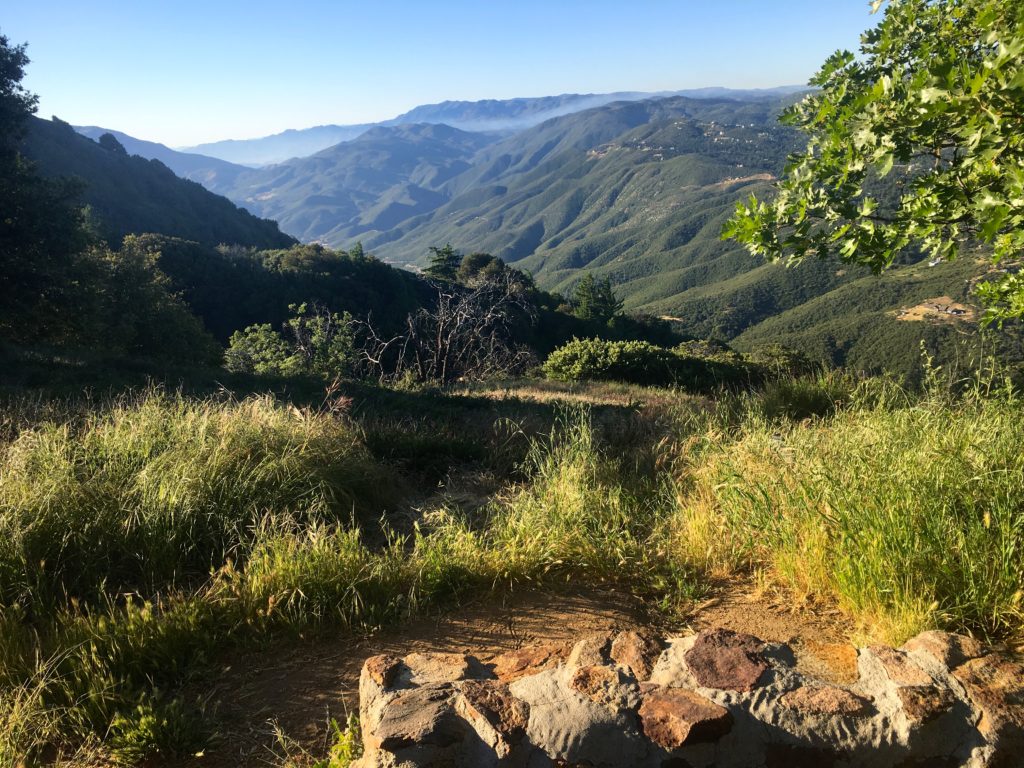 As I was making my way down the last grade, three older hikers were just starting their hike. Sadly, the mask streak was broken. Two were walking across from one another, and as I stood off to the side, I began to wonder if the one nearer to me would move away. He didn't. I was disappointed, as they looked like folks who hike regularly.
Upon reaching the ornate trailhead, a sheriff was beginning to hike up. I said a cheerful hello as I stepped away to allow him to pass.
Back at the car, I tossed my gear in, noting the request to park an extra distance away from each car was ignored. But, with that, my second peak of this year's Six-Pack of Peaks was completed.
---
I am an avid peak bagger, sometimes backpacker, and former sea kayaker living in San Diego. In 2019, I became the third person to complete the San Diego 100 Peak Challenge. Not stopping with that accomplishment, I set my sights on the harder San Diego Sierra Club 100 Peak list, which I completed in 2021. In addition, I have conquered several Six-Pack of Peaks challenges (SoCal, San Diego, and Arizona-Winter). Beyond attempting the San Diego Sierra Club 100 Peak list a second time, I am looking forward to exploring new summits and new adventures across the southwest.