Back in 2017, I was starting to become bored with sea kayaking. As much as I love the smell of the ocean, and the lap of water against my boat, paddling the same waters again and again was becoming monotonous. So, I decided to spend a bit more time on the trails. I stumbled on the Anza-Borrego 5 for 50 Challenge. The Anza-Borrego Foundation was celebrating its 50th anniversary by inviting folks to complete 5 hikes throughout the park. So I laced up my boots and headed out. I was able to convince a few friends to tag along for some of them.
I then began looking through my worn copy of Afoot and Afield in San Diego for new places to explore. It was then I learned about Derek's 100 Peak Challenge. So now armed with a completely insane opportunity, I set out to see what I could accomplish. Now, the 'official' challenge is supposed to be in a calendar year, but I am opting to see what I can complete within 365 days (give or take). Plus, some 30+ hikes are all located in Anza-Borrego, so when I started this adventure, the heat made this highly prohibitive. My initial goal was to hit 50 by year's end. On December 31, I summited Lawson Peak for my 55th peak!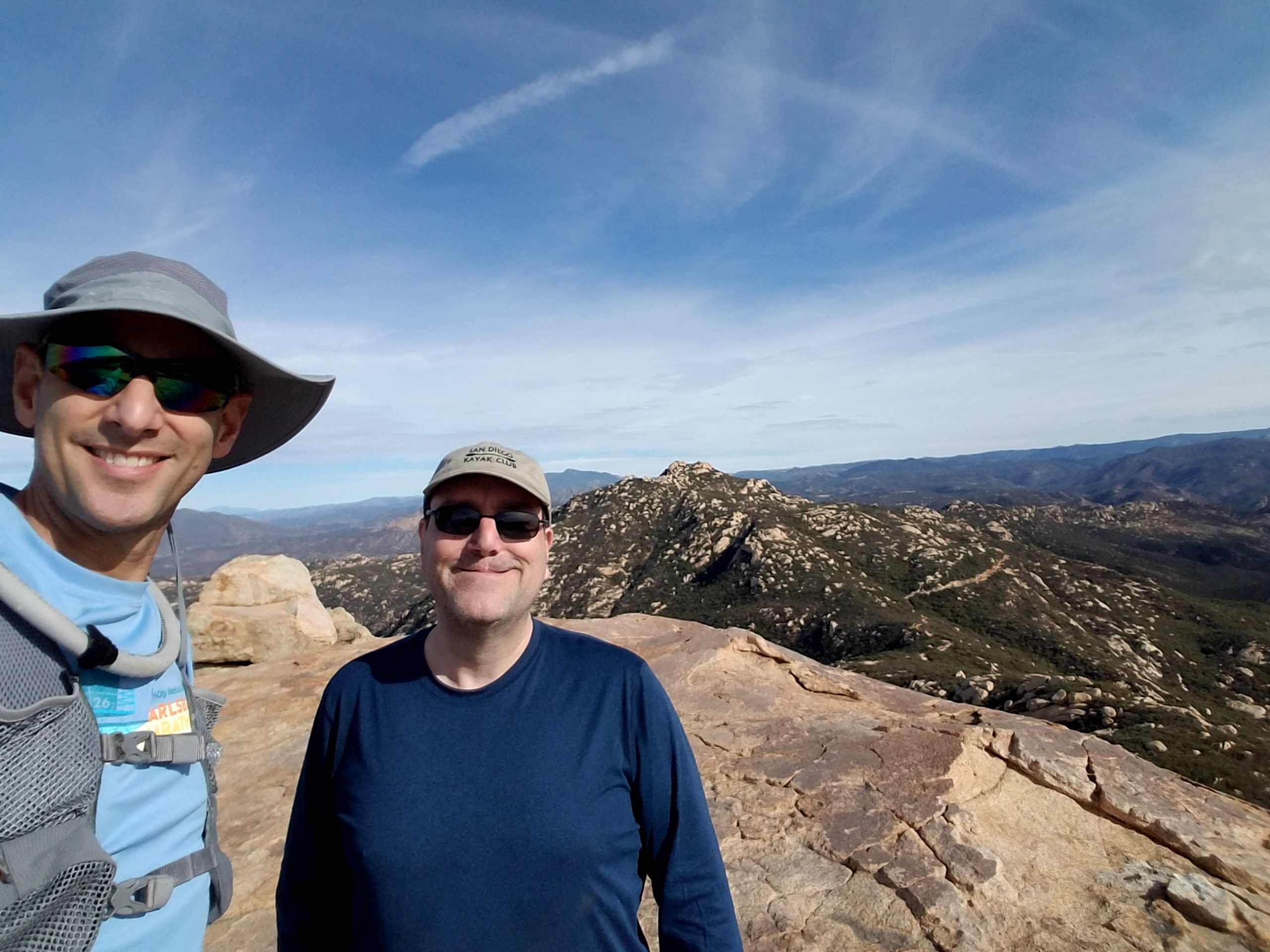 As 2018 kicked off I continued working on peaks out in Anza-Borrego: Mount Tule, Grapevine Mountain, Ghost Mountain, Piedras Grandes, Pinyon Ridge, Wilson Benchmark, Combs Peak. Unfortunately, I was beset by a bout of plantar fasciitis that sidelined me for almost six months. So much for doing it in a year. 
Then the real set back—I herniated two discs in my neck. That really changed the game, but over the ensuing months, I recovered enough to return to the trails and began working toward finishing by the second year since I started this challenge. Unfortunately, the plantar fasciitis returned and sidelined me again. This time we took a more aggressive approach with physical therapy and got it under control. Hitting the two-year goal was still doable with a little luck.
I mapped out the remaining peaks and set out to finish this challenge. It was going to be close, as one never knows exactly when it would become too hot to safely hike in Anza-Borrego. However, the failed summit of Indianhead threw my plans askew. I was so close to finishing all 100…
I looked over the peaks I had done here and realized that I had actually done quite a few of the 'hard' ones; Granite, the Sombreros, Jacumba, Villager… and it hit me "Why not do a reboot?" See if I could summit all 100 in a calendar year! I wasn't going to be able to finish the first attempt until the end of 2019 anyway. Armed with this idea, I went back over the list, looking at the peaks with new insight. I knew how to get to the trailheads, the routes, and the difficulty for each. With that, I plotted my attempt. I clustered the hikes into three basic groups: in-town, desert and general. All the in-town hikes were planned to be done before or after work so they wouldn't count against the weekends. The desert hikes would happen once the temperatures cooled off again. As for the general set, I looked them over and kicked up the challenge some, mostly by combining more peaks together in a single outing. The primary goal was still to finish my first 100, so when the desert season opened up again, the remaining 3 would be my primary focus. I still planned to finish the 100 with El Cajon Mountain.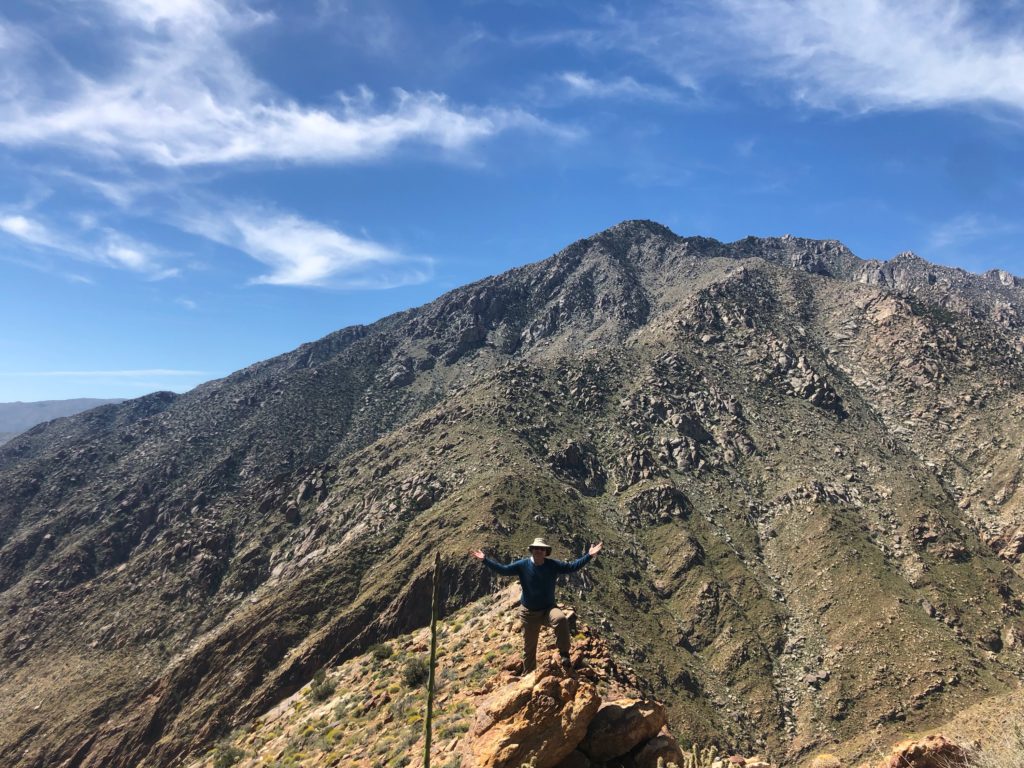 Ted Markus and I also signed up for the 3 Peak Challenge hosted by A16. This would have us summit the 3 Saints: Mt. San Antonio (aka Mt. Baldy), Mt. San Jacinto, and Mt. San Gorgonio. While I entertained the idea of taking on the Six-Pack of Peaks Challenge, I knew my primary focus had to remain in the 100 Peak Challenge.  
Finally, in November, the desert was cool enough to return. So, the mad dash to the finish line. I knew I still had first summits left for Square Top, Mile High, and Indianhead. Thankfully, Greg Gerlach, who was working on his third time completing the Sierra Club San Diego 100, needed these as well. So, I was able to team up with him and tackle these beasts. As I stood atop Indianhead on December 19, I knew I had done it! While I still needed to climb El Cajon Mountain, I knew it was not going to be an issue. This was truly a journey of a lifetime.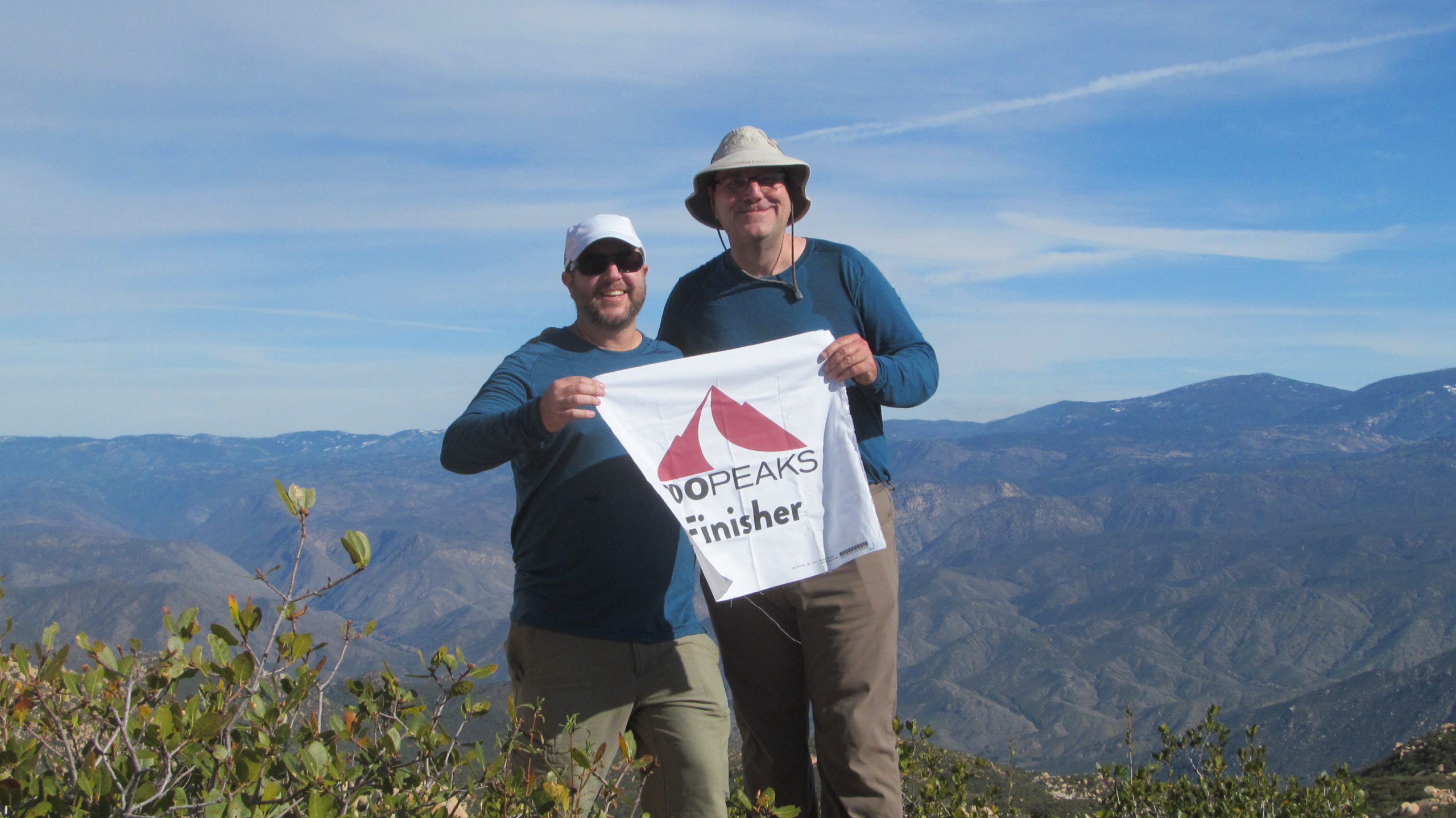 As 2020 kicked off I turned my attention to even more challenges, primarily working on Sierra Club San Diego 100, and the Six-Pack of Peaks Challenge. Susie Kara, the first finisher of the 100 Peak Challenge was also working on Sierra Club San Diego 100, so we began working together, along with Matt Bennett. We were making good progress, and by mid-March Susie had 3 left to summit, and I had 12. In addition, I knocked off 5 of the 6 newly added San Diego peaks to the Six-Pack challenge (Cuyamaca's summit was closed due to construction, so I wanted to wait). Most of the remaining peaks for the Six-Pack were going to have to wait until the snow melted from their summits. Then Covid-19…
Respecting the stay-at-home orders, I began exploring the near-by peaks listed in Peakbagger. As things settled down somewhat, I was able to return back to my primary challenges. I was able to get in two more peaks off the Sierra Club San Diego 100, which was a nice surprise. We also began looking at the peaks on the San Diego Peak Club list, which was the genesis for the Sierra Club San Diego 100. There we found several interesting peaks to explore, and we knew they were obscure, so it would be easy to socially distance on the hikes.
I also started back in on the Six-Pack Challenge. Sitton, Santiago, Sawmill, Strawberry, and Baden-Powell were tackled throughout the summer. While having done 10 of the 18, I am striving toward completing all 18. Some hot weather and fires might make this challenging, but we will see.
As for the Sierra Club San Diego 100, well, if all goes as planned it should take 7 hikes to complete them. I have begun my planning for each of them in preparation for once the desert cools and the challenge can begin again.