Sometimes just getting to the trailhead can be the first part of the challenge. Palms and Elder Benchmark sit to the west of Collins Valley, near Sheep Canyon. To get to the trailhead you need a true 4×4 vehicle and my Subaru Outback was not going to cut it. Two weeks ago during the hike out to Gasp Benchmark, I got to chatting with Greg Gerlach. He indicated that he would be up for climbing those peaks again. For those not immersed in peakbagging, Greg can be considered as truly one of the experts. In fact, he has almost finished the San Diego Sierra Club 3 times!
We set off to rendezvous with Greg in Borrego Springs at 7 am. Just as we began our descent toward the desert, the sun began to spread its glow across the sky. We pulled off a few times to let Ted capture it. After a quick bio-break at Hellhole Canyon trailhead, we pulled into the parking lot behind the taco shop. Greg arrived soon thereafter, and we quickly tossed our gear into his car as set off. We had almost another hour of off-road driving before we could start our hike. The road was fine, with the first two crossings bone-dry, as expected. The third crossing did have some water. As we bounced our way up "boulder alley", it was clear that my trusty Outback would have met her match.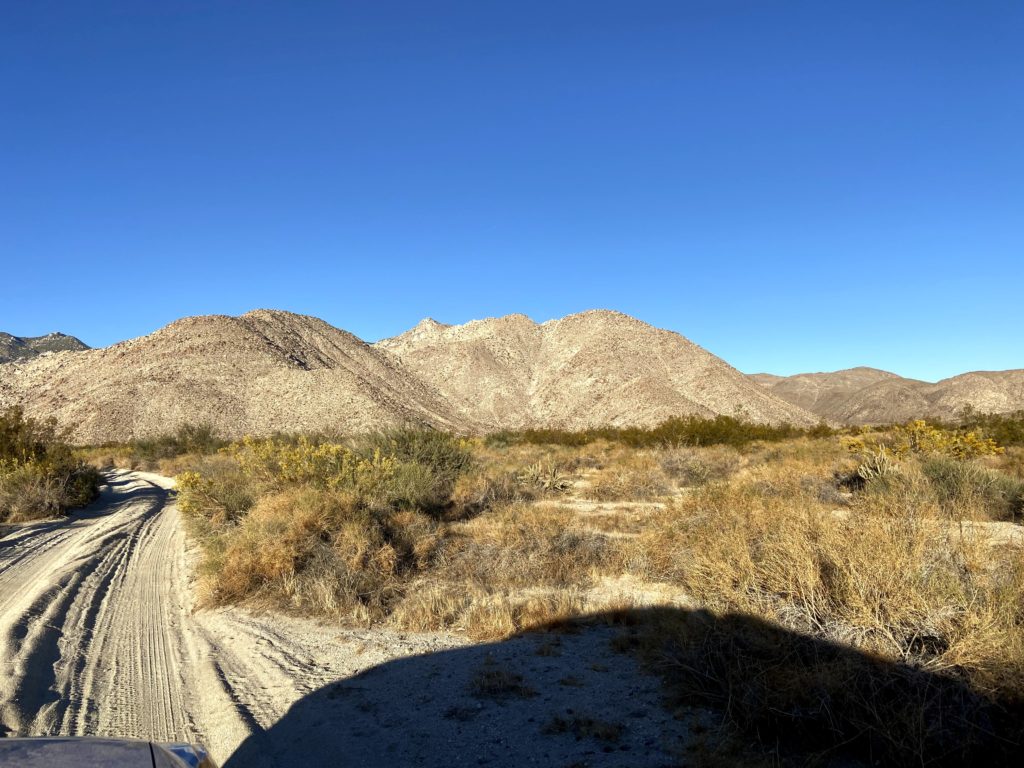 Parking near where we had before when the three of us climbed Squaretop back in late 2019, our gaze turned toward the steep rocky slope that we needed to ascend. These peaks are not really hikes, but more sustained climbing and bouldering. We scouted a basic line we wanted to follow and began our ascent.
For this section, the rocks were manageable and we did not encounter too many issues as we slowly worked our way up. We kept a steady but measured pace. As Greg put it, these two peaks are the 3rd and 4th hardest on the list. Soon we reached the first saddle and took a short break. From here we would work our way along the northern slope for a bit before picking our way through a more boulder-filled gully. Our effort was not so much measured in miles but in time.
Soon, we were ready to make the ascent up toward Palms Benchmark. Thankfully, we had encountered very few cacti along the way. One less hazard to worry about! The rocky slope soon started to become more sandy, letting us know that we had almost reached the summit. Once at the summit, the three of us set out to find the register and the benchmark. We did locate the register, and happily signed our names into it. But other than the remains of the survey post, we did not locate an actual mark. No matter, the views were sweeping. Off to the southwest, Squaretop. Directly to the west, Collins rose impressively. I am glad we did that peak from the other side, as coming up from the desert floor would have been a tough climb. Off to our north was our next peak, Elder Benchmark. After a bit of a rest, and peanut butter and jelly sandwich, we set off back down toward a small plateau that sits between Palms and Elder.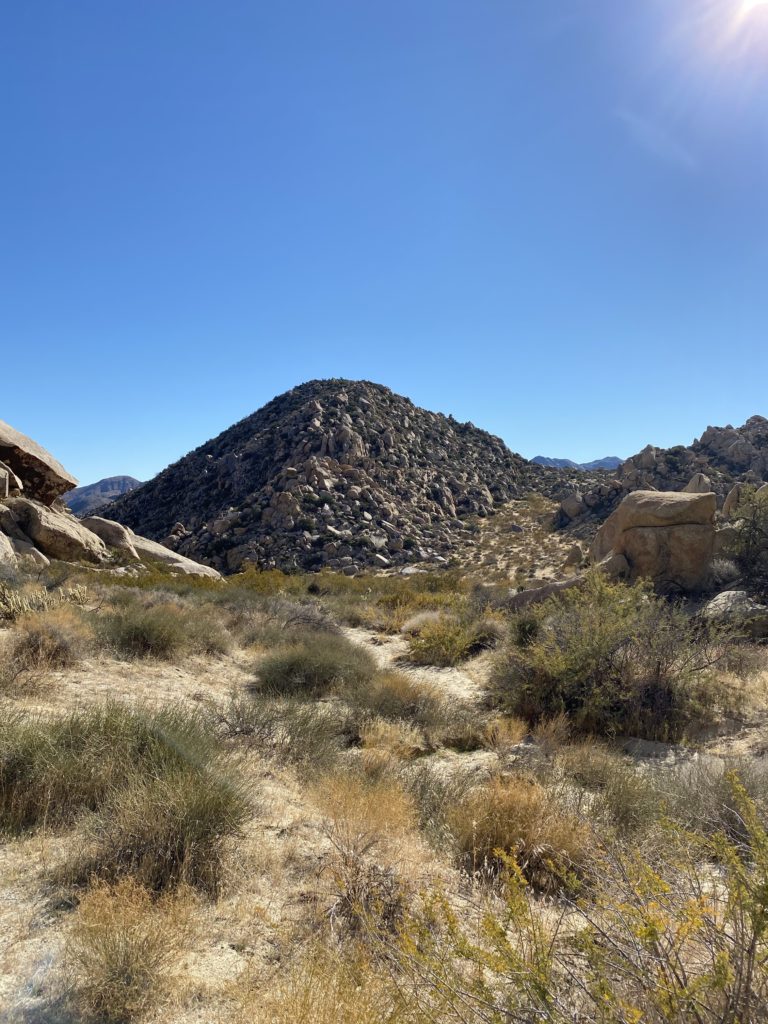 Once at the base of Elder, we again scouted our route. Elder's slope is strewn with large boulders, making the ascent a tougher challenge. Add to that it is also higher than Palms Benchmark. We checked our elapsed time and felt that we should be ok. Our main goal was to be on the desert floor before we lost the light, so up we climbed. There were some tougher sections along this ascent, as the terrain was certainly tougher. Greg would have to scout ahead a few times to make sure we were not going to encounter elements beyond our comfort levels. We did have one section that took some care to cross. I took a narrow ledge for my route, while Ted opted to push up a steep sandy portion. Finally, we crested the ridge and climbed over a small false summit before reaching the actual summit.
We found the register and the mark with no trouble. We snapped a few photos, and took a short break, being mindful of the tough descent that still lay ahead of us. We made our way back down to the plateau without the drama we had upon the ascent. We made our way to the top of the gully and scouted our general path. This gully is filled with some car-sized rocks, so we knew we had our work cut out for us. I stored my pole in my pack, and we began our scramble down. The shadows were starting to creep across the valley floor as we stuck to the left side of the gully to avoid what we could.
About halfway down, the boulders became smaller in size and I broke out my poles. As we neared the desert floor, we passed by a rock that had a piece knocked off it. The colors were amazing. Once on the desert floor, we quickly cruised back to the car under the fading sunlight and the slight glow from the sliver of a moon. Once back in the car, we carefully headed back toward Borrego Springs. All told we spent just over 9 hours "hiking", and according to my tracker covering 5.09 miles with 2,800 feet of gain. Ted's GPS watch logged us at 6.39 miles. Go figure. In the end, my 94th and 95th peaks were now completed.
---