The alarm went off way too early, but we wanted to be at the trailhead around sunrise to once again beat the heat and the crowds. My partner in crime this time was Susie Kara. We met at a Park And Ride in Escondido and headed up the 15. We caught up on things–my kids starting their college classes remotely and Susie filling me in on her recent camping trip.
Today's summit was going to be Strawberry Peak, in the front range of the San Gabriels. This was going to be my 10th peak in my Six-Pack of Peaks Challenge. We followed the Angeles Crest Highway as it wound its way up. The sun was just beginning to rise as we pulled into the Red Box Picnic Area, and a couple of cars were already parked. We grabbed our gear and carefully crossed the highway to the trailhead.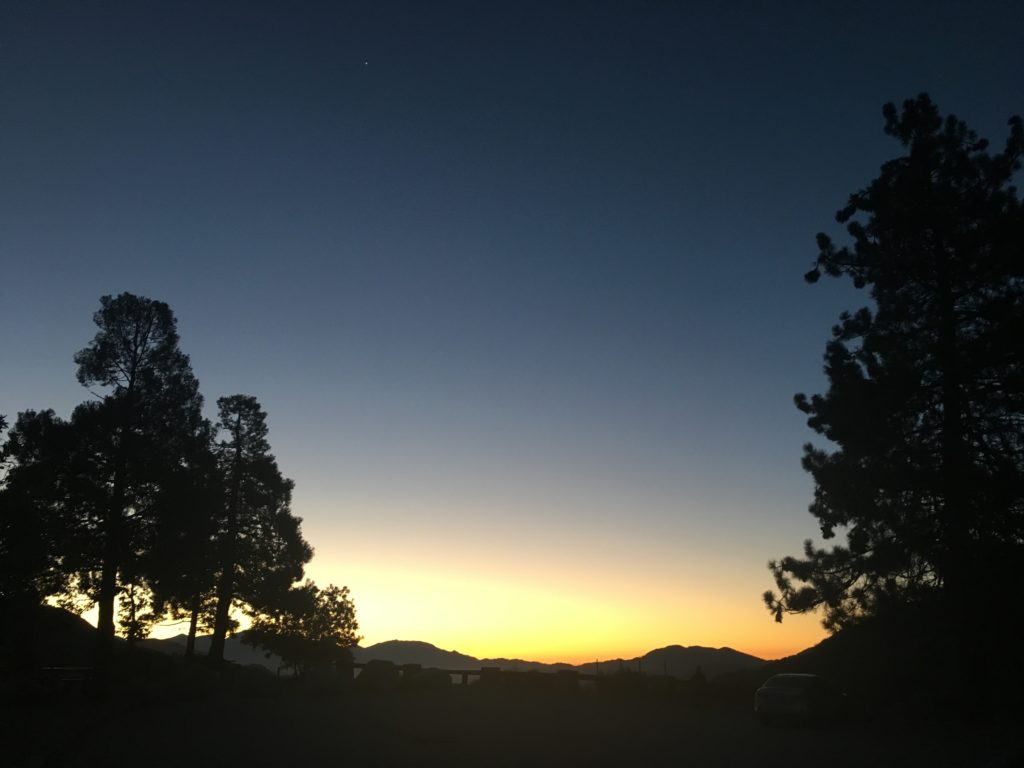 The trail would follow the road for a bit before heading off to the north. The grade was gentle and we cruised right along. We knew this hike would be in two parts–this gentle section and the steep push up to the summit.
The morning sun was shining its glow across the peaks around us. After about 2,5 miles, the trail dropped steeply down toward the Lawlor Saddle. Thankfully, this section was relatively short. We reached the junction with the trail to Strawberry Meadow and took a short break. Staying on the trail up to Strawberry Peak, we began the real climb.
While some might find this section technical, our countless hours exploring the peaks of Anza-Borrego made this section almost second nature. Reaching Strawberry Peak requires crossing several false summits, so remember that as not to be disappointed when cresting one, to only see another climb ahead of you. But, finally, the true summit was a short climb before us. Susie, of course, reached it first and was resting as I made my way up.
Next to the summit post, four different wooden signs were available for our summit photo. I had unfortunately forgotten the strawberries in my fridge that we were going to enjoy. We were soon joined by three trail runners. We shared the summit respectfully and chatted a bit. After snapping our photos we began our descent.
The trail runners soon passed us as we carefully descended. Susie had forgotten her trekking poles, so she was a bit more cautious, and I paid attention to my knee as we traversed down the steep section. We would now start to encounter more hikers making their way to the summit. Everyone would don their mask as we passed.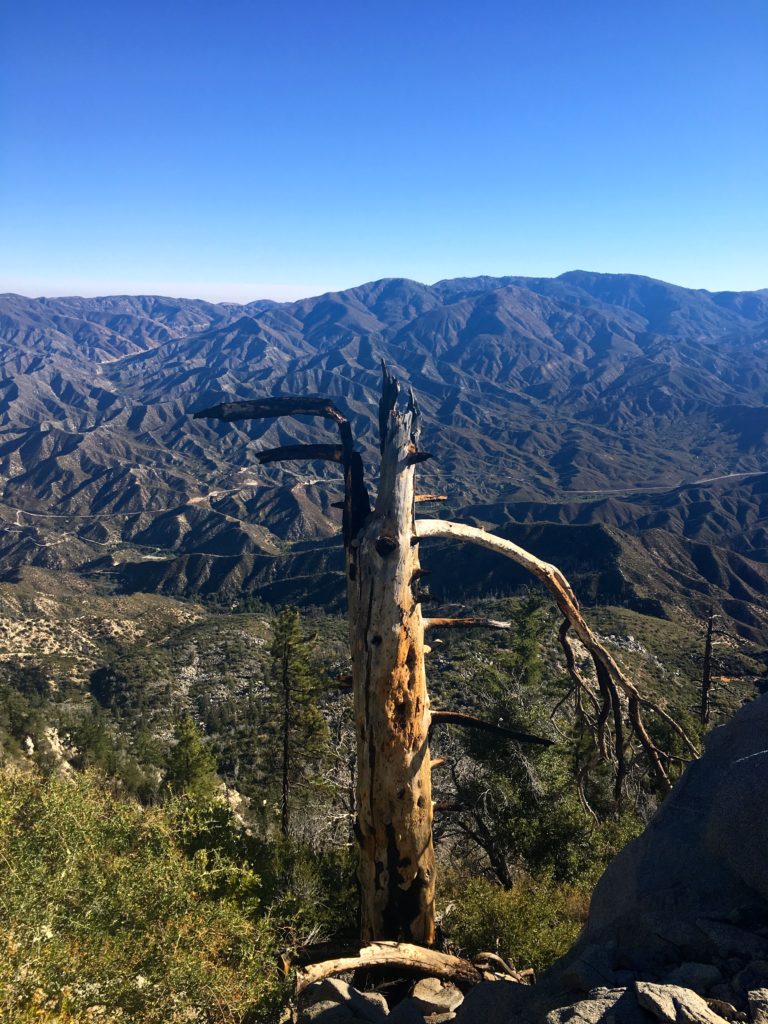 After climbing back up from Lawlor Saddle, we cruised the two or so miles back to the car. It was starting to warm up, and I was glad we were heading back down. We could hear folks enjoying the twists and turns of the highway as we got closer.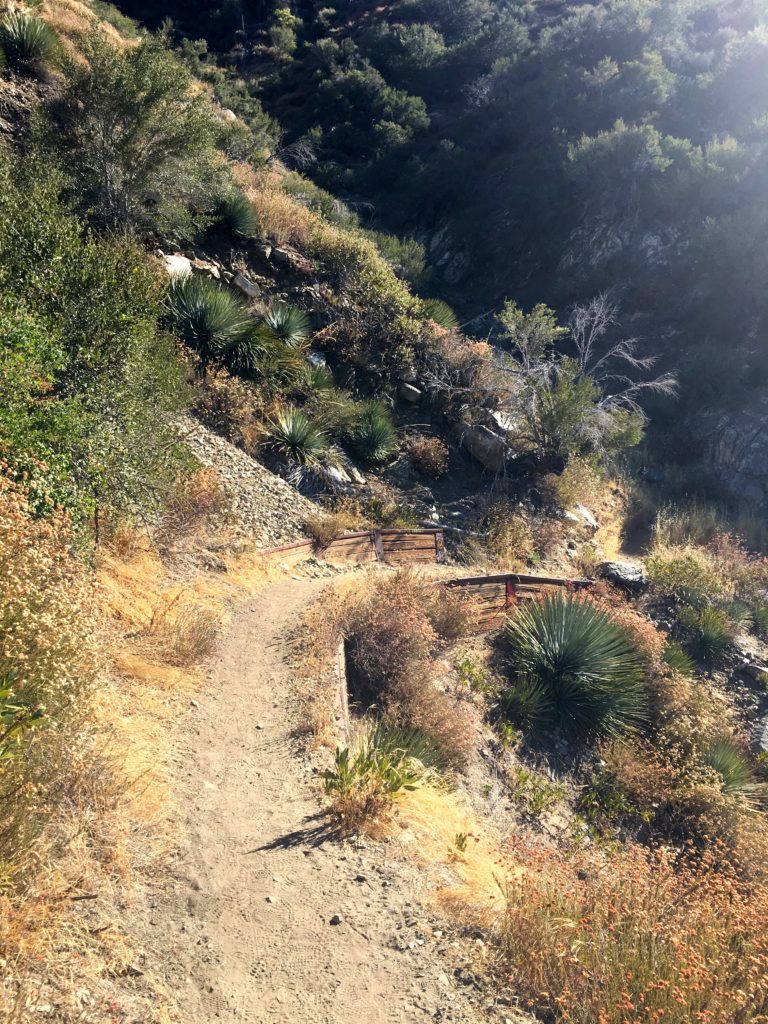 After quickly crossing the road again, the parking lot was now almost completely full. We tossed our gear in the car and headed back home. I logged 7 miles with 1,717 feet of elevation gain in 3:30 of active hiking time.
---
I am an avid peak bagger, sometimes backpacker, and former sea kayaker living in San Diego. In 2019, I became the third person to complete the San Diego 100 Peak Challenge. Not stopping with that accomplishment, I set my sights on the harder San Diego Sierra Club 100 Peak list, which I completed in 2021. In addition, I have conquered several Six-Pack of Peaks challenges (SoCal, San Diego, and Arizona-Winter). Beyond attempting the San Diego Sierra Club 100 Peak list a second time, I am looking forward to exploring new summits and new adventures across the southwest.