The sun had almost risen as we pulled into the turnout to the start of today's hike to Corte Madera. We had done this hike almost two years before. This time we were just missing Dave.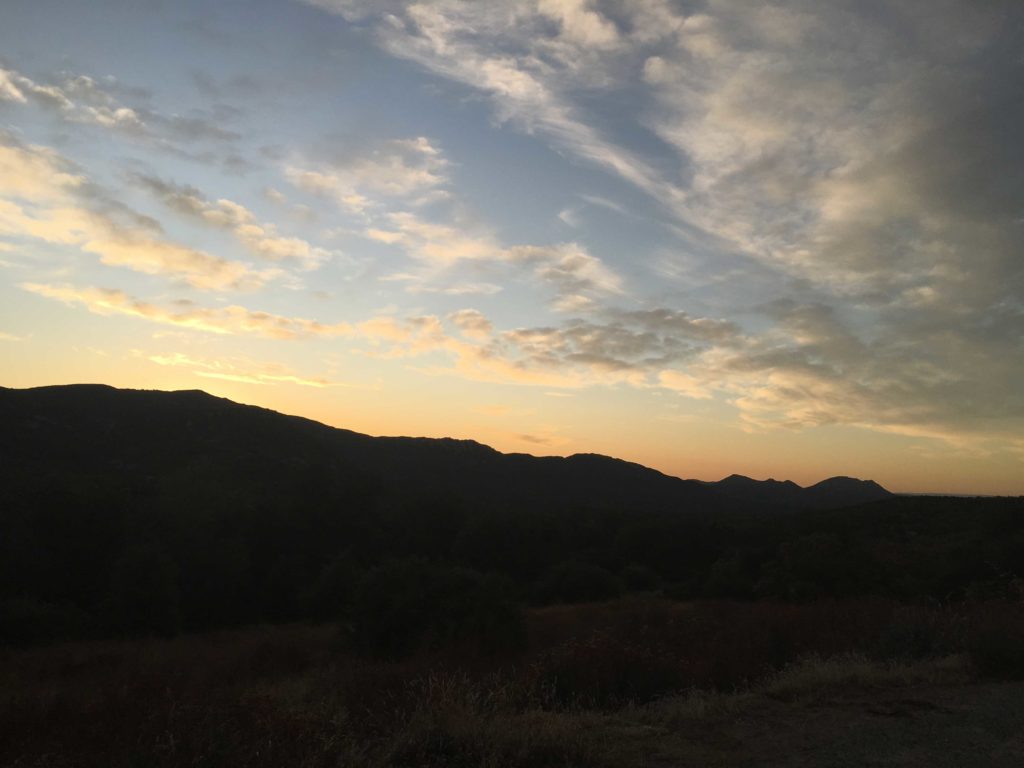 As we began following the road to the Espinosa trail, the oaks that lined the road would be providing welcomed shade upon our return. Once we made the turnoff, the trail began to climb, and after a bit, the oaks receded. The sun finally crested the distant mountains as we made our way up to the saddle.
Once there, another Subaru was parked. We wondered if we would run into them along the trail. Los Pinos stood over us to the south. From here we had our first glimpse of Corte Madera glowing in the early morning sun.
After following the road north for a bit, we would again return to the trail. This is where we would gain a modest amount of elevation. The day was already beginning to warm, as we pushed upward. Once we spotted the split rock, we took a short break.
The trail would continue working its way westward. While the trail is easy to follow, you will want to wear long pants, as there is some overgrowth along with it.
Soon we reached the summit! We did not stay too long as we could feel the day getting warmer. There did not seem to be a benchmark, but we located the register near the edge of the cliff, secured to a bush.
We quickly made our way back down. The one rocky descent we had going out to the peak was almost trivial when ascending. Soon we found ourselves back at the saddle, and the car still there. Hum? The day was continuing to warm up as we headed down the Espinosa trail. Those oaks along the road did provide some welcomed shade as we made our way back to the car. This was peak #63 of my #100PeakChallenge!
---
I am an avid peak bagger, sometimes backpacker, and former sea kayaker living in San Diego. In 2019, I became the third person to complete the San Diego 100 Peak Challenge. Not stopping with that accomplishment, I set my sights on the harder San Diego Sierra Club 100 Peak list, which I completed in 2021. In addition, I have conquered several Six-Pack of Peaks challenges (SoCal, San Diego, and Arizona-Winter). Beyond attempting the San Diego Sierra Club 100 Peak list a second time, I am looking forward to exploring new summits and new adventures across the southwest.