For much of 2019, I have been wandering in the mountains of San Diego, sometimes alone, and sometimes with good friends. I have journeyed to these peaks in an attempt to summit 100 of them within the calendar year. As I approach the end of this journey, I have to pause and reflect upon it. When I am out hiking toward some distant point on a map, to sign some register or photograph a metal disc cemented onto a rock, there is time to think about life, family and friends. I realize that each step I take is a gift and these adventures are not to be taken for granted. Unfortunately, I am now of a certain age where mortality begins to show its unforgiving face. So, instead, I soak in the beauty of the trail, the vistas from the summits, and the companionship of my friends. All these miles have given me a different sense of purpose and passion. I know that this challenge has served as a remedy for me as well. We lost a bright and unique soul in my good friend Mark Kerbel, z"l.
Although I never had the chance to go hiking to one of these peaks with him, I know he would have loved to be there with me. I have dedicated this effort to his memory.
I do have to personally thank some folks along this journey:
My lovely bride Anita for letting me spend all this time hiking…
Ted Markus for tagging along for so many of these adventures…
Susie Kara, the first finisher of this challenge, and sometimes hiking companion, for giving me so much encouragement throughout the year…
Derek Loranger for creating this challenge…
Greg Gerlach for all his information on peakbagger.com and joining me on some of the big ones…
Lastly, all my friends and family who have suffered through me blabbering on and on about this.
Now that this challenge is complete, here are the stats and my answers to the common questions:
Total Miles Hiked: 512.2
Total Elevation Gained: 138,254 feet
Hours Spent Hiking: 313 hours and 18 minutes
These include the A16 3-Peak Challenge summits as well.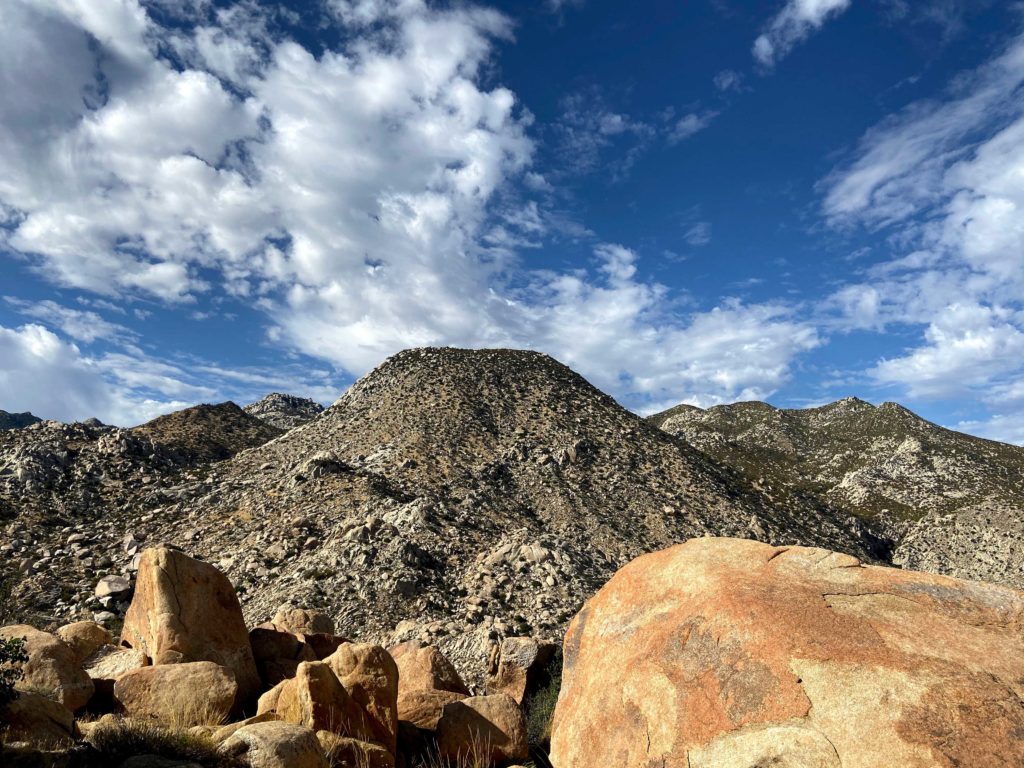 Hardest Hike: Without question Square Top. In our 10+ hours of hiking, we only covered 5.4 miles but gained some 3,300 feet of elevation. There was no trail and some serious bouldering to reach the summit. Ted Markus and Greg Gerlach kept providing encouragement along the entire way. I almost ended my attempt at this challenge on this peak, but I made it to the summit.
Proudest Hike: The Thimble! It took three separate attempts to reach this summit. On the first attempt, the rocks were covered in ice, so Susie Kara and I decided it was not safe to attempt it. For the second attempt, Gail Welch and I got close, but an impending rainstorm drove us back down the peak. My third attempt was a solo one, and I thought the brush near the top might block me, but I found a route through to the top.
Favorite Hike: Picking a single favorite is almost like picking a favorite child. Each peak was unique and had something memorable about it. I think our July 4th hike to Eagle Rock might be my favorite. Juliet Grossman drove down from Temecula to join Ted Markus and me, and we were able to do this hike as a point to point, rather than the traditional out-and-back from Warner Springs since we had two cars. The section from Montezuma Valley Road to Eagle Rock was one of the most beautiful bits of trail I had been on. A close second was Mile High Mountain. This was a full-day hike, where the four of us started and ended in the dark after covering some 15.8 miles and 6,100 feet of elevation. Unlike Square Top, I had the strength and the will to do it!
What's Next?
Well, the peaks are still calling me… I have signed up for the 6 Peak Challenge. In reality, this will be 12 or more peaks. The challenge just expanded into San Diego, so I will revisit 6 of the peaks I did in 2019. I also hope to summit the challenge's original 6 as well. I did three of them in 2019 as part of the A16 3 Peak Challenge.
The 2019-2020 Coast to Crest Challenge will also be on my plate. This will be my third year doing this one. Each year a new set of trails is selected, and I am looking forward to exploring them.
But wait! There's more! There is another 100 peak list here in San Diego. This one is maintained by the Sierra Club. I have 28 peaks left on it, so I will start to pick those off. They are all in the desert, so I hope to get a few in during the early part of the year and some toward the end. That list does not have any crazy time limits on it.